Becoming a Certified Organic Producer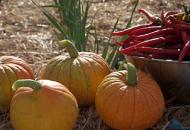 Course not scheduled at present time
This course will be run for group bookings only.
Please email or phone us if you would like us to run this course for your group.
As demand for certified organic food continues to skyrocket in markets around the World, Australian landholders are beginning to realise the importance of the export markets and growing domestic markets which are now available to certified organic growers. This is a short course to introduce potential growers to the practicalities of organic production.
Data researched by the Queensland Department of Primary Industries shows annual growth in the organic food market of 15% annually in the countries to which Australia exports most food. Trends suggest that the Japanese market will be about $25 billion by 2005, the UK $10 billion. Germany and France will be larger markets than the UK. In Australia growth in the market is desperately hampered by the supply available.
Community opinion has moved steadily against factory farming, genetically engineered food and the unknown contaminant load of conventionally produced foods, particularly in countries affected by eco-disasters and given that food travels by many pathways to the consumer, organically certified produce is gaining acceptance as the only reliably safe food, unless you grow your own or have a direct relationship with a grower.
Prices received for organic produce generally command premiums of 30-100% and many organic growers often receive single requests to export quantities of dried fruit and other foods equivalent to more than their entire annual production.
Becoming a Certified Organic Grower is not a difficult process but there is much to learn about the management of soil fertility, pests and diseases through organic means as well as the regulations governing initial certification and continued registration as a certified grower.
Presenters of the course will explain certification standards and will take participants through an inspection of organic growing systems at The Food Forest, explaining what they are looking for in terms of certification.
Annemarie and Graham Brookman who grow some 150 varieties of organic vegetables, fruit, nuts, native foods and grains as well as free-range poultry at their property, will share their experiences of converting  from conventional to organic and the way they have been able to improve soil fertility, cope with pests and diseases, and develop direct markets.