Growing Mushrooms and Micro Greens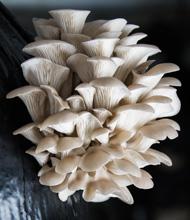 Next course date to be advised

Payment is transferable to another person, but non-refundable
if you cancel less than 2 weeks before your course date
Morning and afternoon tea is provided.
BYO lunch (fridge available, no heating facilities)
Venue: The Food Forest
Due to circumstances beyond our control this workshop has been postponed until further notice.
Growing mushrooms and micro-greens is a magical process that you can do at home to feed yourselves and friends or expand to grow a business.
We've recruited Chris Nuss and Ella McHenry from Little Bunyip Farm to run this workshop to unlock the mystery of converting straw into gourmet food and seeds into vibrant micro-greens, through processes anyone can master.
Chris and Ella wanted to get their small farm at Watervale to quite quickly produce a meaningful income so they could spend family time on the property. Oyster mushrooms & micro-greens seemed to offer quick income turnaround, as well as being delicious and wonderfully healthy. Commercial quantities can be grown just using rainwater from the roof, and farmers markets are a great place to sell them (if you haven't eaten them all!).
With a little bit of technical know-how, like mushroom substrate preparation & microgreen growing media, trays and harvesting - that you'll pick up at the course, you'll be eating your own mushrooms within weeks!
You'll receive one kit for preparing your individual mushroom farm, and microgreens tray (during the workshop) so you can enjoy the satisfaction and wonderment of harvesting these beautiful foods at home AND you'll also take home extra mushrooms and microgreens kits and instructions, to continue growing into the future.