Autumn Open Day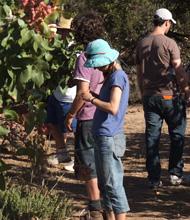 Permaculture Walk & Talk
Date to be advised.
View PDF about our Open Day and courses
This event will be run according to the SA GOV Covid-19 guidelines.
Please arrive at 1.45pm for registration, as this is a sequential, guided program that starts at 2pm
To comply with our COVID safe plan, bookings are essential and please note that no tickets will be available at the gate
Cost: $15 adults, children under 14 free. No pets.
There is no refund available for this event.
Sales of trees (figs, pomegranates & vines), wine & pistachio nuts will be available at the conclusion of the tour.
Permaculture Walk & Talk
The tour will start with a brief introduction to Permaculture, the design system for sustainable living. We will then take you on a walk inspecting revegetation & aquifer recharge work along the Gawler River, the numerous vegetable gardens (incl small scale wicking beds) and poultry.
We will have a look at the passive solar, energy efficient buildings, solar hot water and photovoltaic systems, rainwater catchment, composting toilet and reedbed systems. We then move on to the sanctuary where native vegetation, geese and sheep add to the diversity amongst the production orchards.
We will show you and discuss the growing of many of our fruit and nut species such as figs, pomegranates, pears, carobs, pistachios and grapes, and explain the benefits of the integration of chickens, geese and sheep in the orchards.
Click here for directions and maps.