Spring Open Day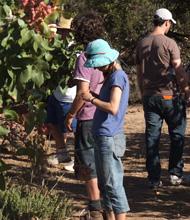 Date: Sunday September 30, 2018
Download PDF about the open day and our one-day workshops
10am sharp - 1pm - Strawbale Building and Info Session
2-5pm - Permaculture Walk & Walk
No need to book
Cost: $10 adults, children free. No pets. Tea, coffee available.
The Food Forest Open Days take place on one Sunday in Spring and also one in Autumn.
The day is divided into a morning session - 'Building with Strawbales', and an afternoon session - 'Permaculture Walk & Talk' which includes an introduction to permaculture design and tour of the whole property.
To gain maximum benefit from the events, please arrive on time as there will be a sequential series of talks tours etc.
There will also be certified organic foods for sampling and purchase.
--------------------------
Strawbale Building Info Session
Inspect:
The passive-solar strawbale studio: 3 rooms & curved strawbale garden walls
Eco-gazebo
Strawbale coldroom
Homestead extension, 80sq metre, passive-solar strawbale-stone-galv construction and photovoltaic system
Gallery with rock-art oxide decoration
Indoor/outdoor living area
Eco shelter for historical machinery.
See: Displays and slides of strawbale construction.
Talk to: Lance Kairl (builder), Bohdan Dorniak (architect) and Gerald Wittmann (engineer) - SA's most experienced professionals in strawbale building.