Organic Vegetable Growing & Free Range Poultry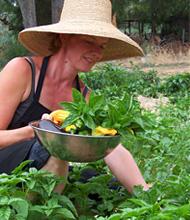 Next course date to be advised.

Payment is transferable to another person, but non-refundable
if you cancel less than 2 weeks before your course date
Morning and afternoon tea is provided.
BYO lunch (fridge available, no heating facilities)
Venue: The Food Forest
Next date for this course is to be advised.
Please email us if you would like to be notified when set a date for the next course in Spring.
Growing high quality organic vegetables is not difficult once you understand the ecology of the garden, especially if you use free range poultry. This course will show you techniques for managing a self-sufficient backyard or small scale commercial garden and the basics of free range poultry husbandry.
We will consider the selection of vegetable species through the seasons, garden design, bio-diversity, irrigation, pest and disease management, mulching, composting and soil fertility, meeting quality and organic standards and small scale marketing.
The Chook is the world's original recycler and pest controller. We will look at its housing, breed characteristics, supplementary feeding, keeping hens out of the lettuces and foxes out of the hens, managing pests and diseases in free-range flocks, rearing your own replacements, as well as chickens and geese in orchard management.
Bookings & Refunds
In the unlikely event of insufficient registrations, the organisers reserve the right to cancel the course with one week's notice. In this case a full refund will be made.