Building with Strawbales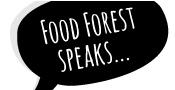 Strawbale Houses have come a long long way since the Three Little Pigs and it's time to update our understanding of this magnificent building material. Australia's premier strawbale builder, Lance Kairl, talks to Des Lawrence about the ups and ups of building with strawbales.
more »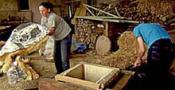 This summary of straw-bale building is part of a project by Nikki Brookman and Catherine Oermann Trinity College Gawler.It contains information derived from literature on the topic and some unique research on the insulation qualities of straw bale walls.
Our project was essentially undertaken to compare...
more »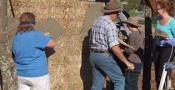 Straw bale walls can be built very much like brick walls, stacking the bales on top of a concrete foundation with a damp proof material (heavy plastic) between the concrete and the bales to stop any moisture getting from the ground into the wall. They...
more »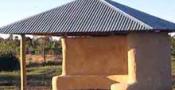 Reinvent your home and garden with strawbale building
Strawbale building is sweeping across Australia as progressive architects and environmentally sensitive home builders realise that this simple technology gives them the opportunity to create walls with uniquely natural shapes, textures and...
more »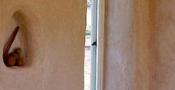 A revolution has been quietly taking place in the housing industry as more and more people choose to construct their homes with straw-bales and the rate of adoption of straw-bale building is set to accelerate as a result of the testing of straw-bale construction in...
more »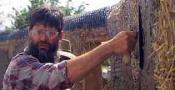 There are some 10,000 plus pages about strawbale construction on the Internet and the number is growing all the time...
more »