Farmers Market Wayville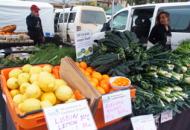 Our next market date will be Sunday October 8th.

You can check up on activities, cooking demonstrations and download a list of the stall holders at www.adelaidefarmersmarket.com.au.
Adelaide families now have the opportunity buy fresh food directly from producers from all over SA at the Adelaide Showground Farmers Market. The 20,000 strong crowd that turned up for the farmers market which formed the centrepiece of the 'Go Organic Festival' in September in 2005 encouraged the Royal Agricultural and Horticultural Society (RAHS) to back the foundation of a permanent farmers market by a not-for-profit community organisation. The market opened on October 1st 2006 with a massive crowd of 10,000 shoppers and runs each Sunday (apart from the weeks of the Royal Show) from 9am-1pm.
In the tradition of farmers markets, it is a food market at which both food producers and consumers can get a fair price for food produced in SA and support regional and sustainable land use. The market guarantees that you buy direct from the producer and is known for its strict adherence to the ethics of farmers markets which now number in their thousands worldwide as families seek to avoid overstored food from major retailers who pass on meagre prices to farmers. In Australia, the farmers market movement is represented by the Australian Farmers Market Association and SA's peak body, the SA Farmers Market Association, will soon be launched.
The Adelaide Showground location is superb, with a major bike trail, the Glenelg tram line, a major rail line, numerous bus routes all converging to make it one of the most accessible sites in Adelaide. Parking is also easy and cheap.
120 producers offer their extraordinarily diverse products (everything from oysters to almonds and bread to boysenberries!). It is accessed from the car parks at the Leader Street (southern) end of the Showgrounds.  
Becoming a member brings with it 10% discount on all purchases as well as a right to vote in the management of the market. Details and memberships are available at www.adelaidefarmersmarket.com.au.
The Food Forest is a foundation stallholder at the market and presents a wide range of foods, always including its signature specialty - organically certified pistachio nuts. We are there on alternate weeks (we run short courses on the other weekends).