Repairing Our Rivers - Practical revegetation, restoration and community utilisation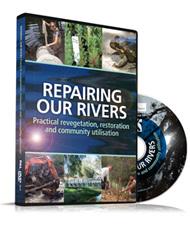 $24.50
Cost includes:
GST, postage & handling
The movie - 54 minutes, 16 chapters
Witness the power of community in establishing and caring for a new ecosystem
See the potential for groups to propagate locally indigenous plants
Understand the roles of specialised machinery in clearing woody weeds left by 150 years of neglect
See how easy it is to get access to scaled, aerial photographs for mapping and planning
Marvel at the skills of tree climbing and working with safety ropes in difficult situations
See the transformation of a town and its rivers using low level bridges
Please email us if you would like to order any of our DVDs.
This is an inspirational guide to individuals, groups, schools and organisations that want to repair our rivers and give people access to beautiful and dynamic natural environments along them.
It is an empowering and educational video showing how a small group of landholders decided to repair their stretch of the Gawler River in South Australia, returning it from a rabbit infested thicket of African boxthorn and prickly pear to the diverse, beautiful and productive indigenous ecosystem that existed for thousands of years before European settlement of Australia.
The movie is stacked with practical information, powerful and detailed images and interviews. It traces a number of real case studies dealing with community building, erosion control, floodway & steep bank revegetation and introduces viewers to the techniques and professionals connected with river repair and how they can involve them in restoration projects
It shows the remarkable Greening of the town of Gawler through the establishment of bike paths along the river corridors and unique low-level bridges shows how simple it can be to provide quick, safe, sustainable travel across towns as well as providing access to their leafy, tranquil river environments.
Chapters
Setting Restoration Aims
Assessing the Site
Map, Plan & Discuss
Selling the Dream
Propagating Locally Indigenous Plants
Preparing the site
Planting
Follow-up Weed Control
Hydromulching
Controlling Erosion Threats
Revegetating Floodways
Steep Bank Revegetation
Monitoring
Managing River flow
Raising Community Awareness
Greening Gawler
Produced by Food Forest TV for Gawler River Riparian Restoration, a sub group of The Gawler Regional Natural Resource Centre.