Pistachio harvesting & processing - 'Small is Beautiful'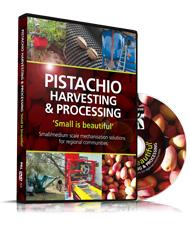 $24.50
Cost includes GST, postage & handling.
Screening quality DVD includes:
Growing pistachio trees
Manual and mechanised harvesting using umbrella shaker
Farm-based cool storage system
Small/medium-scale processing - dehulling, drying, grading, cracking of non-split nuts, storage and packaging of processed nuts
Saw-tooth spindle grader for sorting split and non-split nuts
Rotary bolt-action shelling system to convert non splits and rejects into valuable kernels
Linear weighers for packing
Branding opportunities for regional communities to promote their unique products
Direct marketing to provide growers with a reasonable return
Please email us if you would like to order any of our DVDs.
Small scale mechanisation of harvesting and processing
This film shows how a family growing pistachios on a small farm in Australia, found small-scale equipment to enable themselves to harvest, process and sell their crop. Their fascinating journey has helped others to source village-scale machinery from Sicily and Greece and unlock the true value of their produce.
Small to medium scale growers often find themselves far from processing factories and many prefer to add value to their product and sell it directly to customers rather than simply delivering raw product to a big organisation.
Annemarie and Graham Brookman now provide hundreds of families and some of Adelaide's top restaurants and chocolatiers with their farm-fresh pistachio products.
Though relatively small (with about 1000 pistachio trees) The Food Forest has installed a 'model' small scale processing system using a cold-room built from straw bales to store freshly harvested nuts, a small Australian-made dehuller to rip the fleshy hulls from the nuts, a highly efficient, locally-made electric dehydrator, a small-scale grader from Greece to sort the, naturally split nuts for the snack trade from the non-splits and machinery from Sicily to extract kernels from non-split and discoloured nuts for confectionary and cooking.
As well as processing their own certified organic crop they can process nuts for other growers, who will be able market them in their own ways including direct sales at farmers markets, to restaurants and retail outlets. They can provide others with introductions to machinery manufacturers.