Bolt-action nut cracker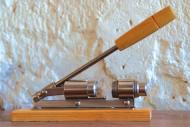 Bolt action
For pecan nuts, walnuts and hazelnuts
Weight: 740g
We're temporarily out of stock of the bolt action crackers.
Please email us if you'd like us to let you know when we have more back in stock.
This fast, accurate, forged steel machine enables you to open nuts that need careful cracking to get kernels out intact rather than a 'mash' of shattered shell and kernel. It is essential for pecan nuts that really must be cracked end to end, but is also brilliant for walnuts, especially those which the average cracker either smashes or can't fit.
It is excellent for smaller nuts like hazels, for which the adjustable screw cylinder is reversed, presenting a smaller indent in which to nest the nut (see pic below).
The machine is an attractive and business-like tool with natural wood base and handle. People (especially kids) just love using it!
Instructions for use
Screw the handle into the socket as shown. To crack nuts, open the bolt by shifting the handle away from the cracker. Place the nut into the open breech and screw the adjusting cylinder in the collar to capture the nut in the breech. Slowly operate the handle to crack the shell without smashing the whole nut.
The adjusting cylinder can be screwed out completely and reversed to crack smaller nuts. It may be worth treating the screw thread of the adjusting cylinder evey few years with a drop of olive oil to keep it lubricated.
Presentation
The cracker and screw-in handle are contained in a plastic liner in a cardboard box with details about the machine and instructions for use.