Cup-style cracker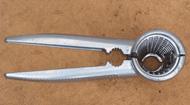 $7
Cup-style
For walnuts, almonds and brazil nuts - not suitable for macademias or pecans
Weight: 200g
Please email us if you would like to purchase one of our nutcrackers.
The cup-style nut cracker is incredibly versatile and fast. Made from high grade alloy, it will crack all but the very biggest walnuts as well as almonds, brazil nuts etc. The knobbles on the inside of the 'cup' grip nuts of all shapes and larger sizes, whilst the standard cracker between the arms is perfect for smaller nuts such as hazels. (The cup-style cracker is not well-suited to cracking pecans, which must be cracked end-on-end, and is not strong enough to crack macadamias BUT it has been known to be used for opening champagne bottles!)
Presentation
The cracker is available only in natural metal colour (silver) is shipped in a display box with pictures and instructions for use and has a tab for hanging on sales racks. Producer's address and contact details as well as origin are printed on the box.