The ultimate nutcracker collection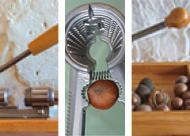 Collection includes:
Bolt-action cracker
TJ's macademia cracker
Cup-style nutcracker
$15 P&H will be added at the checkout
We're temporarily out of stock of TJ's macca crackers.
Please email us if you'd like us to let you know when we have more in stock and are selling the Ultimate Collection again.
In this collection you get the whole nut cracker kit and kaboodle - the bolt-action nut cracker, TJ's macademia cracker and the cup-style nut cracker.
When you buy the cracker collection, you save a total of $33 ($7.00 on the crackers, plus $26 on postage and handling) compared to buying them individually.